Discussion Starter
•
#1
•
This weekend I noticed all the sudden after a big rain, My carpet was soaked with water...
At first i thought it was the windshield, sunroof, door gaskets, or the fresh air intake.
But after eliminating these i dug deeper.
I had to remove the carpet and dry the car out..then started multiple water test.
After a day of trial and error...I found a small crack in the body sealer behind the glove box where the firewall and the side panel meet. Not rushing water, but enough after a day long rain to make a mess.
I cleaned out the bad sealer, which was molding and soft. About 1.5"s.
The sealer above and below this area were in good shape and still hard.
Here are a few picts..
Water i found...
Crack in sealer...
.
Cleaned area...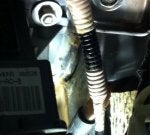 Patched with silicon...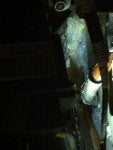 Dry car...waiting for dry carpet...
I suspect this just started leaking. I bought the car brand new in 06 and i have never had any sort of moisture or smell in the car.
Got lucky and caught it early.
Anyone every hear of this issue before??