I have a 2013 EXL and pulled the trigger on a 10.1 Android radio from China. The factory unit has XM which I stopped using and its the non-nav non-touch screen model. It's pretty ugly. After reading about some other members projects, I decided to go for it. The unit ended up costing only $57. I will explain later...
Overall, I am very happy with the outcome. It's a clean install and it came with the vent surrounds to make it fit nicely. The unit itself is a 32GB Android tablet with a 45 watt amp. It comes with all the wiring harnesses to make it virtually plug and play (more on this below). This is the unit: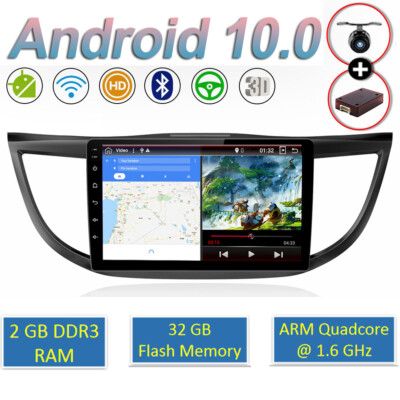 Find many great new & used options and get the best deals for 10.1'' Android 10.0 Car Stereo GPS Navigation DAB+ fit for Honda CRV Head Unit at the best online prices at eBay! Free shipping for many products!
The price I paid was originally $225 but the seller said the unit I purchased would not work in my car, so he gave me this unit for half of my intended $225. So the price became $113. Then there was an issue with the wiring harness. They did not take in to account that my car has a factory amp and sub. They told me to take it to a shop and have them wire it for me, and then gave me another 50% refund. So now the cost was $57. I managed to figure out the harness issue and wired the amp trigger myself. Note that if your car does not have a sub, you will not have this issue. It would be literally plug & play.
I also bought a dashcam and connected it to the radio which supports this. You can see in the split screen shot I have Waze on the left and the dashcam on the right.
Everything works great. I have an aftermarket amp and sub and it has an output for this as well and does a great job on the 80Hz filter. I did not touch the factory speakers. In fact, they sound much better now with this unit. It has a great EQ and cleans up the sound nicely.
What does not work:
Phone buttons on the steering wheel. I have not figured out how to make them work.
Reverse cam on the new unit is not connected. I have a replacement backup camera as my factory unit is crap. I just haven't had time to connect it. It does still show in the iMID.
What does work that I did not expect would work:
The iMID!! Everything on it still works, as does the steering wheel controls. It does not show source info such as radio but it does show volume, custom pics, backup cam, etc.
Clock! It displays the time that I set on the Android unit.
Changing the volume still displays on the iMID
All other steering wheel controls work such as source, volume and forward/back (left/right).
Other cool features with the unit - it's Android and has Google Playstore so once you are logged in, it will allow you to install whatever you want. I have almost all my apps from my phone on this, including some streaming apps such as Prime Video. I also have a thumb drive connected full of movies and tunes. It supports more cameras but I only need a front dashcam. It also supports a backup cam which I will install at a later date.
Overall, I am very happy and would recommend this to anyone looking for a great upgrade to your clunky factory unit.