Hello,
I am new to this forum as recently purchased a 2001 Honda CR-V LX. I'm loving the vehicle, but I have had to do some work on the front end and various other details, making it as safe as possible for daily driving.
During my work, I discovered a glaring issue concerning the bolt in the photo attached to this thread. On the passenger side, the bolt was still attached, but hanging down about an inch (Obviously there have been some terrible mechanics performed on this vehicle in the past, but regardless I need to make this vehicle safe). I was able to tighten it back up without issue, but when I checked the drivers side I found the bolt to be missing completely...hence my questions. The only thing that I know about the bolt is that it is important and it has a 19mm head. It appears to secure the lower part of the suspension to the body or some other mounting bracket. I apologize for the bad description, I'm new to this vehicle and am learning my way around everyday.
The bolt I am referring to is marked in the RED square. With a long extension on a 19mm socket, I am able to secure it properly by guiding the socket through a hole in the bottom of the front lower control arm. The hole seems to have been made for this purpose.
Questions:
Is it possible to thread a new bolt into the existing structure? (I'm really hoping this is not a situation where the nut is floating somewhere)
What is the length, thread size & pitch? (I would like to purchase a new automotive quality bolt and secure it properly)
What is the torque specification for this bolt?

UPDATE: 28 ft-lbs (I believe)
I really appreciate any help and look forward to any response that can help me fix this. It's a mystery to me why this bolt would have been removed or (unlikely) loosened over time, but there is no looking back only forward!
EDIT:
I have been doing some research, and the bolt appears to belong to the front end cradle/stiffener. From the diagram in the following link, I believe it to be part #4. (OEM PART #:
90162-S04-000
)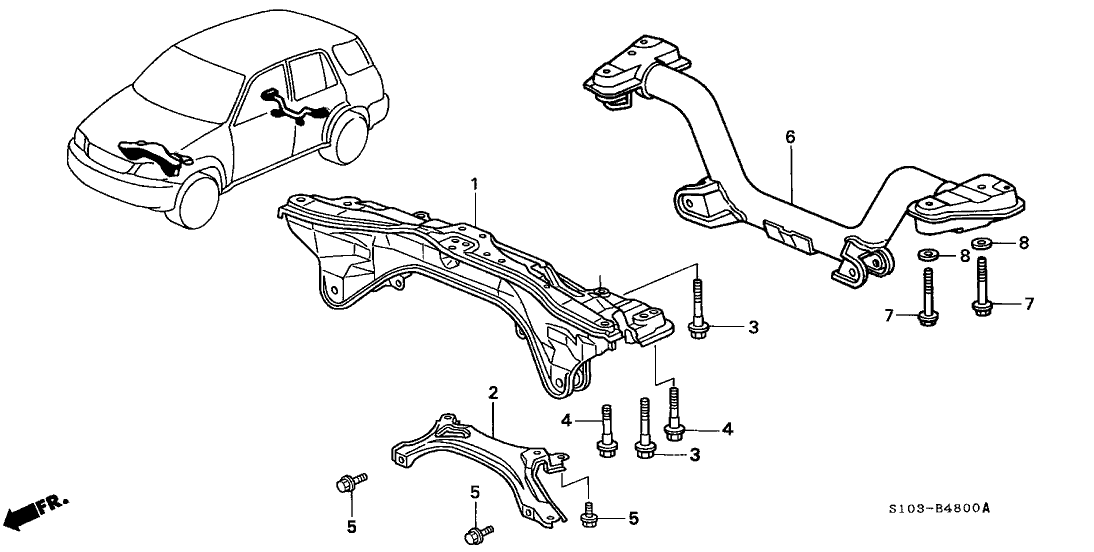 Source:
https://www.hondapartsnow.com/parts-list/2001-honda-cr-v-5dr_lx_4wd-ka-5mt/rear-beam.html?PNC=1
Can anyone please confirm that this is the correct bolt?