Okay, I'm starting to wonder if Honda modified the high-mount brake light design because of a compatibility problem with its OEM spoiler. Take a look at these images. The first one is the original Honda 34270-T0A-A01 light assembly. Notice the two fixed bolt locations, which have a captive screw mounted in the assembly.
Now, check out these aftermarket light assemblies. Neither of which has the captive screws or the "washer like" protusion that's preventing my light assembly from mounting flush against the spoiler.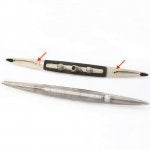 I've been trying to locate a photo of the back of one of the newer OEM high-mount brake light assemblies, espcially the red version, to see if the design has changed.