Discussion Starter
·
#1
·
I was considering to use 8" component speakers with ANC active vs using amplified sub without ANC, just to add enough bass to stock EX stereo. After considering cost and the options that I can select from, I ran the car without ANC for a week and I don't feel any noise issue in the cabin so I pick underseat subwoofer path. Cons: I can't use ANC, I have to disable it (unplugged), Pros: tons of options from $70-$500, space saving, more than enough bass, no modification required on OEM parts.
Parts that I use:
- Axxess T wiring harness: AX-DSP-HON2
- Scosche line to RCA converter LOC2SLSD
- Boss 8 gauge amplifier wiring kit
- Kenwood KSC-PW8 150 watt RMS 8" underseat powered sub.
Installation:
- Disconnected negative Battery
- Route the 8 gauge power line from battery side, thru driver side fender well. Behind the fender liner there is a rubber plug that I can pull and run the power line through it to get into the cabin. No drilling necessary.
- I ran the wire through the rubber and plug it back in. Zip tied it. Inside the cabin it is just on the left side of the driver.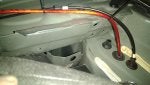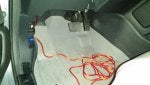 -Zip tied it to run across center console then went under it to the front passenger seat. This is where I will put my sub.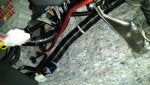 -AX-DSP-HON2 is very nice T-harness kit that it separates speaker wires from the rest, connected this to the LOC2SLSD, double tape it to the black plastic behind stock stereo.
-Run the RCA and remote turn on from LOC2SLSD to under the front passenger seat.
-Then the rest is easy just connect 2 RCAs, remote turn on, power(+) and ground(-) to KSC-PW8.
-It fits nicely under front passenger seat and disappears.
-Connect the (-) battery back and turn on the cars. At first it will initialize for few minutes. TPMS, Hill Assist, Brake system, etc will reinitialize and throw warning on the cluster panel.
-All warnings were gone after the car run for few minutes.
-Enjoy the bass