Discussion Starter
·
#1
·
At last, the factory tires wore out and I finally had a reason to get new tires for the CR-V. While excitement to spend hundreds of dollars on new tires isn't common, I was ready. I pondered Goodyear's and Michelins and anything from TireRack.com with a good rating.
It comes at no surprise to me that the factory installed Bridgestone Ecopia tires were not listed with a good rating.
While I didn't have much of an opinion about their noise level or dry handling, I cringed every time it snowed or roads became icy. The Bridgestone tires had an M+S rating (Mud and Snow) but even with a light dusting of snow, the CR-V's traction control system and ABS was overwhelmed. Cornering, stopping, starting and anything in-between was a nail biting experience with only patchy spots of snow on the pavement, add in a freezing mist and you might as well just plan on walking, it would be safer.
The Bridgestone tires were also nearly at the wear bars with 26,500 miles. The dealer said they had about 4/32 or so of tread left when I brought the car in because it smelled of gas when idling after short drives and few other things.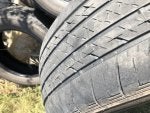 These tires had a warrantee of either 65,000 miles or 70,000 miles, but I didn't want a replacement Bridgestone because of my experience with them in the winter.
The only aspects of these tires I really liked were their ability to go through mud when they were new (once they started to wear, traction became an issue) and the gas mileage the car achieved.
I would routinely get 34 to 36 miles to the gallon at 60mph on the highway. That is between 1 and 3 mpg higher than EPA estimates if you trust the cars on-board mpg calculator.
The main reason I bought the CR-V was the estimated gas mileage on an AWD vehicle, so when looking for new tires, I wanted to make sure I didn't compromise that feature.
I really liked the Goodyear Assurance WeatherReady tires, they had a good price and reviews, and were rated as an all-season tire that had a true snow tire performance marker, but this was also their downfall for me. Between concerns about decreased gas milage and excessive tire wear, something with the 3PMSF markers (true snow tire) became less desirable.
I really wanted a tire brand I had on my previous SUV (newer gen Ford Explorer), the Michelin Defender LTS M/S; up until about three weeks ago, they were not available for the 18 inch rims on the CR-V online. I was able to drive my old SUV through anything and never worry about loosing traction, but I noticed my gas mileage on that vehicle decreased with these tires by about 1 mpg.
I gave the Michelins a chance on my CR-V because I had such an overall good experience with them on a past vehicle and if I lost 1 mpg, so be it.
I had a Michelin tire shop installed them at about $180 per tire and $30 for mounting and balancing. The rims on the CR-V look very delicate, but the tire shop did a good job and I don't notice any marring from the de/mounting process.
The tread on the Michelins are the first thing I noticed; they are a beefy looking tire. These tires really grab the road on turns, the noise doesn't sound different from the Bridgestones and the ride seems to be slightly improved. Best of all, my gas mileage so far is largely unchanged with the Michelin tires (so far, the average is actually up .5 mpg but time will tell if this tendency holds up, I've put about 1,000 miles on them).
I think there was a bit of a break-in period - a hundred miles or so – where the car rode stiff and handled a bit strange, but once that passed I couldn't be happier.
While I haven't driven through snow yet, I did take the car down a muddy road just to see how well the tires bite when traction loss becomes an issue. I parked the car in the middle of a mud puddle, the tires sank about two or three inches into the saturated dirt, I gave the car some gas and it pulled itself out with no issue. While I didn't put myself in a situation were I could easily get stuck, I could tell these tires were much better in the mud than the aged Bridgestone. Michelin really earned the 'M' from the M+S rating in my book.
So far, my only complaint is these tires sometimes feel unsettled on city streets at lower speeds. If the road is uneven or distorted in some way, you can feel the tires grab at the road and pull the car left or right until the road evens back out. I don't really mind this, but it is noticeable; I wonder if as these tires wear down a bit if this will be less of an issue. At highway speeds, I don't notice this.
After my first experience in snow with the CR-V and it's stock Bridgestones, I actually considered buying new tires on my new car (with less than 8,000 miles on the odometer), but quickly found I didn't like the selection. What I found so disappointing was there were very few tires sold online that had a tread to handle mud and snow, still achieve good gas mileage and have a warrantee exceed 45,000 miles. The Michelins Defender LTS M/S are a bit more expensive than other tires, but their warrantee is rated to 70,000 miles.
These Michelin Defender LTX M/S tires seem to fit all my needs.