Discussion Starter
•
#1
•
I decided to fabricate my own intake for $90 in my woodshop: No it's not made of wood. That's just where I keep my tools. I put it on, connected the sensor, little breather tube (so many adapters), and then put a small filter on the tube coming out of the top of the engine (it wasn't really connected to the box, so I just filtered it) Everything fit perfectly and I bought exactly the right parts, the intake is probably as far away from the engine as possible without going into the under/back of the engine bay. I left the bottom part of the stock airbox, so that the intake had something to rest on. I may remove it later, but right now it holds it in a perfect position that I like. The Sensor was a B*** to remove, because I was afraid of breaking it. Everything went together real smooth and I did it in about 45 minutes. The only real trouble was disconnecting all the stock pieces. It looks BEAUTIFUL!!!! DOn't know how it sounds yet, but I did start the car, and I got no CEL (had the battery disconnected), so I must have done it correctly.
However, when I turned the car off I heard a very large sucking sound, but I'm guessing that is because the intake is exposed and no longer silent anymore. Oh, and here's some pictures so you can all laugh at my two toned engine bay. The red is actually interesting looking in the engine bay, but it doesn't show up in "real light" it just looks black, but the flash of a camera will brighten everything.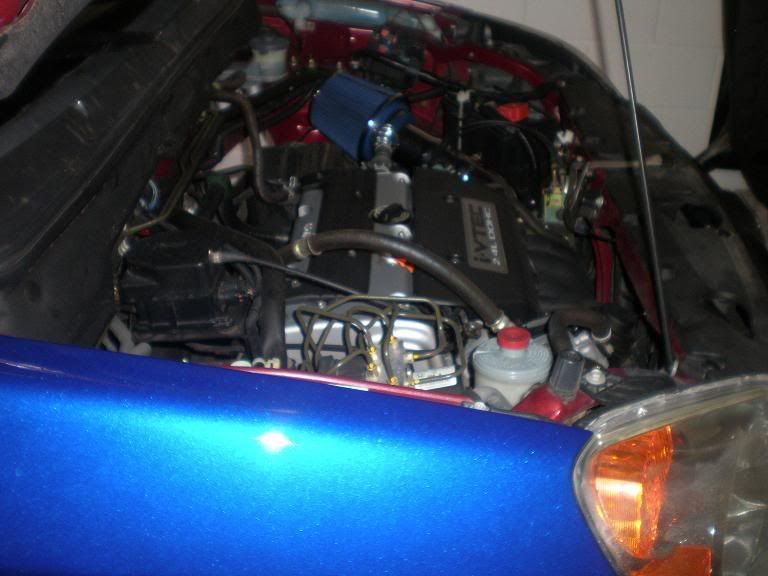 And then the close up where the breather tube and sensor go.
Overall I'm happy with the look of it, and am glad that I learned how to do something new today. Not as hard as I thought it would be.