Hi, I accidentally ran into another vehicle today. Here is the damage: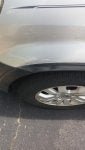 I don't want to spend big money on it, but I do want to make it look better. I am thinking about buying touch up paint and taking care of it myself.
Currently, I can't tell if the whitish blemish is due to another vehicle's paint or it's my exposed primer? Should I try to rub it out with alcohol first?
Thanks
Here's a closer up:
I just want to make the metallic paint look better...