Yes! Success. I really think this should be a sticky... he hem (mods) JK. So I got it figured out with everything hooked up and working.
Here are the parts needed to get your CRV 2012 oem backup camera working with any Head unit that has RCA input for camera.
*I have no kickback from any of the links I'm sharing!
1. Metra 70-1730 Receiver Wiring Harness $14.99 (I used the SUB RCA adapter that comes with it for my Video RCA)
https://www.crutchfield.com/p_120701730/Metra-70-1730-Receiver-Wiring-Harness.html
2. PAC VOLT-39 Adjustable Voltage Adapter (Set to 6volts on the selector) $14.37
https://www.amazon.com/gp/product/B0741CG39X/ref=ppx_yo_dt_b_asin_title_o04_s00?ie=UTF8&psc=1
3. RCA cable - mono to cut and solder to Video out of OEM harness. *I used the Sub adaptor that came with the Metra harness. DO NOT USE IT IF YOU PLAN ON KEEPING THE OEM SUB OF YOUR VEHICLE. Just find a cheap RCA to splice.
Here is the wiring diagram. A pic is worth a thousand words.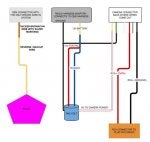 Pic of the OEM Harness that has the Camera power and data