First of all, I bought my car on saturday. Upon purchasing it and driving at night for the first time, it felt like I was driving with no headlights at all. I'm used to HID headlights and when you switch from one car with HIDs and another without one, the difference truly is night and day.
So, I purchased a $29.99 amazon HID kit made by Innovated. 6000 Kelvin temperature rated bulbs which should give it a crisp white color. Not a fan but they did not have the 4300 Kelvin in stock. So, I opted for it.
Now, I know I will get the whole "cheap kit you get what you pay for" and that's okay. I'm just testing it out at the moment.
So, onto my installation, supplies needed:
- HID kit
- Velcro mounting tape.
- Zip tie(just in case)
- Pliers(to rotate the bulbs once in place)
- Scissors(if needed)
- Electrical tape(if needed)
Upon looking at the kit itself, I noticed a few things wrong already. The return wire on one of the bulbs is not what it should be.
I'll let that go for now.
Now, time to prep the ballasts. Using the velcro in place, put them on the flat side.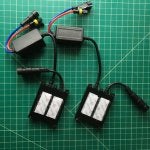 Now, to look for the perfect mounting position for the ballasts. I found these to be optimal FOR MY CASE. IT DOES NOT MEAN IT WILL WORK FOR YOU BUT USE THIS AS REFERENCE.
- Passanger side will be next to the wiper fluid reservoir in a vertical position.
- Driver side will be on the wheel fender itself.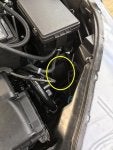 Went to test out the HID kit before I install them and what do you know?
The polarity is reversed! So, I cut the wires ON THE KIT and wired them the other way around. Black with red and red with black. DO NOT TOUCH THE CAR HARNESS AT ALL.
Now that I know they work correctly, I go onto mounting installing the bulbs and ballasts.
For the Passanger side, there will be a tight fit. So, with a flat screw driver, pop the plastic piece out and move the wiper fluid reservoir to the side. You do not need to take the whole thing out. Put the bulbs in and easy peasy.
Now, installing the ballasts. They go in the same place I told you about. Next to the reservoir. Once installed, pop the clip back in and you're good to go.
Moving onto the Driver side. This one is MUCH EASIER.
Here is where I mounted the ballast. Since it's attached to the wheel fender and it's plastic, you push the ballast with your left hand towards the ground, then your right hand will push towards the hood creating pressure so the stickiness of the back side of the velcro strips will adhere.
And that's all there is to it!
Now, I will be waiting until it gets dark out to adjust the headlights to the correct height!
So, I'll be updating this tonight!
Edit:
How to properly aim your headlights. This is a drawing I just made. This works with everything whether it's halogen, LEDs or HID's.
Improperly aimed headlights with such height will, regardless of what you use, blind oncoming traffic.
The height from the ground to our low beam is 37" whereas a normal passanger car will be at 29.5".
----------------------------------------------------------------------------
Update:
Aiming done. Just needed not even a quarter of a turn.
And this is how it should be:
Perfect aim adjustment will always hit the beam under side mirrors:
Cost was only $29.99. Hopefully they will last. At least I'm guaranteed 2 yrs out of them. I have my backup. 2 Matsu****a gen3 ballasts found on nissan/infiniti cars. But lets see how these hold up.
Here's a video:
Not the best video because I only had my iphone and it was on 720p mode so i won't have to upload a gigantic video. But I just want you guys to see the crisp cut-off line and how it never goes above side mirrors for either the car in front of me or oncoming traffic.