Discussion Starter
•
#1
•
I was wondering if i could use the grille of the 2010 crv on my 2007 crv. It's basically the same car, only thing i see different is the grille(and some details in the bumper), and i like the one on the 2010 much more than the one on my car. But i'm not sure if they fit on eachother. Here is the link for the 2007 grille that i have:
here is the grill i wanna use on my car: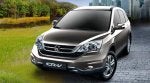 appreciate any help.